20 Anki Add-ons/Plugins
This post was last updated on the 2nd of March 2021.
Anki supports community-created add-ons which allow you to expand Anki and make it do more for you. You can download these from the following webpage, https://ankiweb.net/shared/addons/.
I have made use of Anki for over 6 years now.
Over that time I have been using some brilliant plugins which I feel can make your SRSing a lot easier. So without further ado, here is my list of what I think are the best Anki plugins.
Here are quick links to all the best Anki add-ons I discuss in this post:
---
How to check your Anki version
Before getting into these plugins, it's worth pointing out that Anki has recently gone through a few major updates, and as such, some add-ons only work on certain versions. It's worth checking what version of Anki you have and what version the add-on supports on their download page.
To find your Anki version go to Help > About on the main Anki screen, you will see a screen like the one below which displays the version of the software 3 lines down from the top.
Anki updates occasionally, before you update Anki, check that your Add-ons have updated for the new release otherwise they might break!
How to check an add-on's version
You can tell if an add-on supports your version of Anki by looking just below the title on its download page. If it's an update to date plugin, there will be a blue or white box near the download ID like in the below screenshot. If an addon doesn't have this then it's likely out of date and may not work with your version of Anki.
---
The following list is in no particular order.
Disclaimer – As time goes on, support for these plugins may be lost and thus some of these may no longer work. Do also bare in mind that there are now different variations of Anki hanging around which support older Add-ons too. So if you haven't updated yet it may be worth checking out some of the older Anki Add-ons before updating to see if you want to use them.
If you want more information on learning things more efficiently AND making them stick then I suggest taking a look at Make It Stick: The Science of Successful Learning.
For the advanced of you out there I would also highly recommend Deep Work by Cal Newport, you can get it in Japanese too!
---
Top 20 Anki Add-ons
1. Language Support Add-ons
A few languages have plugins to allow for extra functionality. I personally have only used the Japanese one (which is amazing by the way), but if you are studying any of the other available languages then it might be worth taking a look at them. It's just a shame that there aren't more language support plugins.
---
This plugin adds a little snowflake icon next to each of the fields when you add or edit a note. If you click the snowflake then it will "freeze" the content in that field, thus carrying it onto the next card you add. This is less useful for language learning but can be great for other forms of study, especially if you need to make multiple cards on a particular subject.
Receives regular updates for the latest Anki versions.
---
This was been pretty helpful when I started learning German. With the lack of subtitles for German shows, I have been unable to use Subs2SRS. This little add-on acts as a good replacement for audio flashcards.
To get it working just highlight the text and click the speaker symbol. This will then bring up a new window, click record and it will replace the highlighted text with audio.
Depending on the language, you may wish to change what speech source you use. I tend to just use Google's speech source as it is pretty accurate for English, so I'm guessing it's going to be okay for other languages. It supports a range of languages and If you like audio on your sentence flashcards then it's a must-have.
There are now two versions of this add-on, the original for 2.0 which can be downloaded here: https://ankiweb.net/shared/info/301952613 (unsupported on Anki 2.1 as of writing this), and the unofficial patch which you can download from the link below. Do be aware of this though as it means the original author may update his version soon, which might mean that this one has to be taken down.
Note: Nothing replaces a real humans voice though, so if you can, try to get native material that has text and audio. Make use of the following guide to convert your material into insanely powerful flashcards: Get Thousands of Contextual Sentences for Language Learning (Sentence Banks).
---
This is a very simple add-on that adds color to the buttons at the bottom of the screen, just like they are in the mobile versions.
Receives regular updates for the latest Anki versions.
---
Memrise is incredibly popular and I used it to learn hiragana and katakana in Japanese (along with Dr Moku).
I know that it has a wide range of courses, professional and community-based, as well as the ability to make your own flashcards.
Now, a lot of people seem to discover Anki after Memrise and realize it is more efficient.
When you hear this you naturally want to switch, but you don't want to throw away everything you've done.
Well, this plugin doesn't transfer your progress but it can import entire courses into Anki. This means that you will lose your progress, however, you can still easily import the content from Memrise and then use Anki to study it more efficiently.
Please note that it does say on the add-on page that it's for 2.1. I managed to install it fine on the latest version myself and it appears to work okay, but it may not work in future updates. 
---
This is the same as Memrise add-on but will import decks from Quizlet. If you are a fan of Quizlet then this could be great if you are thinking of moving to Anki. It can also be super beneficial if you are using other people's work from Quizlet as well.
---
Speed Focus Mode is certainly one of those plugins that I wished I'd learned about earlier. The idea of the plugin is to get you answering cards as quickly as possible, and when it comes to Anki I am very much the advocater of quantity > quality of reviews (mainly because I use it for language learning).
This means that I aimed to get as many cards done as possible and in the quickest time possible. Well, with this addon you can certainly do that.
This add-on trains you to pay attention and speed up your reps by playing alerts, revealing the answer and/or failing the card after a given period of time.
This is fully customizable in the options and will make a great addition to your Anki arsenal.
---
Does exactly what it says in the title. All your fields on all your cards can now be hidden away with a click of a button.
This is a really nice feature if you want to add extra information to a card that you don't think you would normally need in a review but that you would like to keep stored in the card just in case you might need it in the future.
In fact, this has been very helpful when importing decks made by others, as it can allow you to effectively hide any junk you don't think you need on the card without going in and editing the layout of the card.
It's definitely one of those ones that I didn't know I needed until I found it!
---
This plugin makes Anki's reschedule algorithms a bit more manageable. Very useful, especially in the beginning stage as some days you get loads of cards and others you get barely any.
This spreads the load, making it less intensive on certain days. The only issue is this can make Anki slightly less efficient as it does mess with its scheduling algorithms and thus Spaced Repetition.
I recommend uninstalling this after you get used to SRSing.
Receives regular updates for the latest Anki versions.
---
There used to be an add-on called Search Google Images for selected words which I used a tonne when making cards for Japanese as it was often easier to google image search a word than look it up in a dictionary. 
That mod is no longer supported, but this new mod does exist and provides a somewhat similar experience.
The previous mod would allow you to highlight a word and then go straight to google images, saving you a bunch of time with copying and pasting text.
This new mod instead does things in batch from the browser. All you need to do is open the card browser, select the cards you want, go to Edit on the menu bar and click "Add Google Images".
This brings up the window above where you can adjust all the options for which field you want the images to go to, how many images to download, and what size they should be made.
This is an incredibly useful tool especially for adding images to a large selection of cards.
---
Unfortunately, the old Power Format Pack add-on hasn't been updated to the latest version of Anki and so this Mini Format Pack is the next best thing.
It's a "stripped-down version" of the former plugin which doesn't have some of the more advanced features like markdown support, but it does provide some of the basic features that can be quite useful when laying out your cards.
These features include highlighting text, inserting code blocks, inserting horizontal lines, creating lists, indenting selections, and aligning buttons.
A very useful plugin for formatting your cards nicely!
---
This add-on aims to make the card browser much more useful and easier to use and one of the main ways it does that is by adding any field in your deck as a column that can be displayed and sorted.
Some of the other useful columns it provides are the first and last review dates, the average and total answer times as well as tags, all sortable!
---
This plugin ignores the special types of accent letters that are used in other languages while searching in Anki's browser.
For example, the flicked "é" in French would be recognized as just "e" in the browser search results.
This is a must-have for those who are studying languages that have these special characters in them, as Anki doesn't natively support them.
This works for a variety of languages so check to see if it is relevant to the language you are learning, or the one that you are using to make your cards with.
Receives regular updates for the latest Anki versions.
---
There used to be an older add-on that hasn't been updated for the newer version of Anki which would allow you to go full screen with F11.
Well, this plugin builds on that and not only allows you to go full screen but also goes the extra mile by hiding any distracting parts of the program such as all the menu bars and buttons, as seen below.
This is great if you want to get rid of any distractions while studying. Press F11 and go full screen.
Simple, yet effective.
---
This plugin adds some basic overall stats when you click on a deck in the main menu. It tells you how many cards are due today, how many reviews you have, how many new cards are available to learn, and how many cards you have total.
Quite a nice little add-on, especially if you like seeing your stats grow as you progress. For me, this is a must-have, along with More Overview Stats 2.1.
Receives regular updates for the latest Anki versions.
---
Essentially the same as the plugin before but with even More Overview Stats! It adds more stats to the overview page and tells you how many mature and learning cards you have, as well as suspended cards.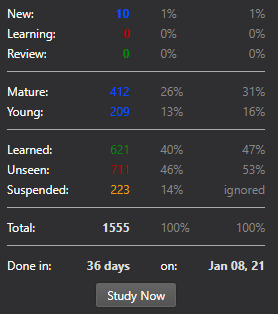 I have used this for a very long time now, and it's very beneficial. It saves you having to look through all the graphs to find details about your deck as it's all there in one easy to comprehend format.
---
These are two really cool additions that add some gaming elements to your Anki reps, which can really help with motivation.
Life Drain works on its own but you will need to have it installed to be able to use Life Drain Extra.
Life Drain by itself adds a health bar below your answer buttons, the idea being that the lower your health is the longer you are taking to answer questions. You have to keep plowing through your cards and a high enough rate in order to keep your life up!
Honestly, this is a great tool and I wish it was developed back when I was learning Japanese as it would definitely have kept me more focused during some of my most intense repping sessions.
Life Drain Extra simply adds a GAME OVER screen whenever your health reaches zero. It's up to you whether you use this or not, personally, I love the concept.
---
Like cloze deletion?
Ever wanted to remove parts of images to create image-based cloze deletion cards but find Microsoft Paint too much of a pain?
Then this add-on is for you.
Easily remove parts of images in Anki to make cloze deletion cards.
Very useful!
Do be aware that this plugin is in alpha right now and the developer has stated on the download page that once it's released it will be removed from that page in favor of the official release page. As this could be anytime in the future, I will leave a link to both the alpha version and the official release version, be sure to check both before downloading!
---
Another simple but effective plugin. This will save you a tonne of time.
You don't want too much information on your cards anyway, so having massive images in them is not good.
This plugin solves that by allowing you to easily resize images within Anki.
To access the settings to change the shortcut or the size of an image, go to Tools > Image Resizer
Receives regular updates for the latest Anki versions.
---
If you are studying an Asian language then the chances of you struggling to read small font sizes are going to be high.
This plugin helps by allowing you to change the font for the menus in Anki. Not only does Anki use a stupid font when you change the display to Japanese but the text is also incredibly small. This add-on allows you to change this to any font you like.
It's incredibly easy to use simply go to Tools > Change interface font to bring up the window below and change the font and font size.
Some people have suggested that this might cause issues with other plugins, most notably heat map, so if it does and it annoys you then maybe wait on an update for this one.
---
Honorable Mentions for Slightly Older Versions of Anki
Some of the plugins that have been created over the years for Anki have unfortunately not been updated for the newest releases, but are still great add-ons that I feel are worth mentioning for those of you who are considering downgrading to a previous version or that have yet to update your Anki.
It is worth pointing out that these add-ons may still work with a newer version, the same can be said for the ones above after Anki eventually has its next update. I have tried my best to test them on the latest version, but it appears that anything that is below version 2.1.0 no longer has an option to download on their official plugin pages, so all I can do is discuss my past use of them here with a link to the download page and hope that the developers of these add-ons update them in the future. You might be able to find these addons online somewhere and then install them in their files but I would recommend against this is as it's risky business.
Night Mode – Appears to only work with Anki 2.1.0-2.1.19
Night mode for the PC version. If you don't know what night mode is, it basically just helps reduce eye strain by using darker colors for Anki's background and in other areas.
This plugin won't be updated for future versions as the latest version of Anki now has this feature built into it, all you have to do is go to Tools > Preferences (CTRL+P) to change it.
This is great for anybody working in a low-lit area or who likes studying at night as it will prevent that annoying screen glare that comes with applications that use bright white colors as their background.
---
This one actually does work with the current version of Anki but I've included it down here and not in the main list because Anki now has its own built-in card rescheduling utility which can be accessed from the Browser > Cards > Reschedule.
However, this plugin could still be useful for a very specific solution, and that's when you might accidentally import scheduling data from another user. It's likely that Anki will add this feature in the future though and make this plugin obsolete, but it still may be useful for some of you for now.
---
I hope you found this list helpful. Some of these plugins are way more useful than others but I have found that most of them have enhanced my SRS experience.
I definitely suggest taking a look at the plugins page. There may be some little gems there that could make the process a lot smoother for you.
If you found any of this helpful then consider supporting me through Patreon or PayPal 🙂
Support me on Patreon
As always, thanks for reading!
マット
2021/03/02
Follow me on Twitter
---
Here are some of my favorite tools and sites for learning Japanese
Thank you for reading this blog post, which I hope you found useful for learning Japanese. Here are some of the most useful websites that I've found for finding Japanese content to use for immersion as well as some really useful learning tools to help you through your Japanese studies. Some of these are affiliate links which just means that if you decide to use these sites by clicking the following links, then I will earn a commission. But honestly speaking, these are the sites that I use and recommend language learners, even my friends, to use anyway.
Anki Tools: To get started, I really like Migaku for Anki. By itself, Anki is already a super useful tool for language learners but Migaku allows for integration with websites like YouTube and Netflix, allowing it's users to create flashcards from the shows and videos that they are watching, as they are watching them. If you use my link you can get an extra month for free.
Speaking Practice: For this I absolutely love iTalki. There are thousands of Japanese teachers on the platform that are available at all times of the day to have conversations with you, in Japanese. Some teachers take a more traditional approach while others are just there to chat, these are the ones I would recommend if you are looking to improve your conversational Japanese. Lessons start from just $5 and there's no long term commitment, I highly recommend them.
Immersion: I've used a lot of different earphones / headphones over the years but by far the one that has come out on top is the NENRENT S570. This is a singular in-ear earphone that matches your skin tone to keep it discrete, meaning you can listen to the language you are learning while at work, or school. For a full list of tools and gadgets I recommend for maximizing your immersion time, check out this blog post.